Barcelona can be expensive and Barcelona can be budget. You can spend your time staying in cheap backpacker hostels, drinking in the street squares and hanging out on the beach for free. Or, if you're in the know you can sample the 5-star lifestyle on a 2-star budget! There are several 5-star hotels that are (semi) open to the public, which have luxurious swimming pools, comfortable deck chairs, well-stocked bars and amazing views. All you have to do is stroll in confidently, choose a good spot to sit and lap up the 5-star ambience. So if you're poor but have expensive tastes then read on and we'll tell you where all the free luxury is…..
Barceló Raval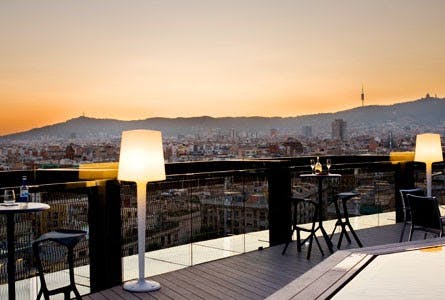 Our first and favourite is Barceló Raval, a relatively new designer hotel which sprung up a few years ago in Raval (Barcelona's 'Chinatown'). There was a lot of commotion when this hotel opened as people said it would 'sanitize' Raval and its construction would pave the way for more gentrification (the buzz word used in Barcelona for giving neighbourhoods a facelift). Raval has its dirty charm and most people actually like it that way. The hotel itself is a tall cylindrical tower with a wire mesh façade which gives it a slightly less imposing feel against the backdrop of Raval. As you enter the hotel the first thing you notice is the cool air, quickly followed by the wacky contemporary décor. Go straight ahead to the elevator (passing the large metallic cow with the tray on its head), acknowledge the security guard with a friendly nod and take the third elevator (the first two don't go all the way to the top). The lift will take you to the rooftop terrace with paddling pool, cocktail bar and stunning 3600 views of Barcelona. Bliss. Don't be afraid to order a beer, the drinks are actually not that expensive (3.60€ for a beer, last time we checked) Every Sunday they have sunset disco parties (invitation only on facebook) which are well worth a look.
 Hotel W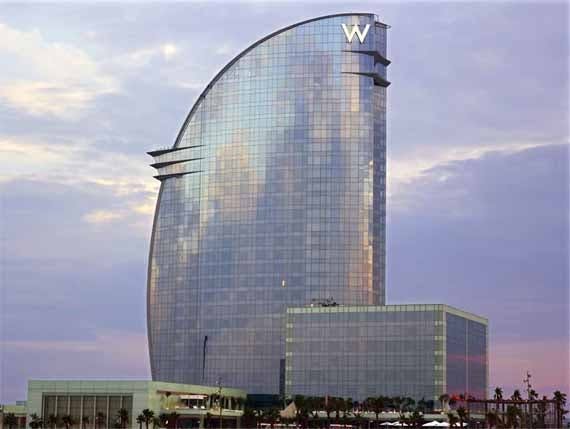 This Dubai-esque construction is also known as 'la vela', i.e. 'the sail' in Spanish due to its imposing sail shape. It really stands out on the Barcelona coastline and can be a handy reference if you need to find your bearings. Again it has garnered mixed opinion; some say it is ugly and other say it adds a spot of 5-star class to Barceloneta. Its construction has certainly done wonders to regenerate the road along the old port, with even more palm trees and ample space for rollerblading.
You can enter the hotel through its enormous lobby filled with large sofas, fancy fountains and über-cool interior design. Head straight through and follow the natural light towards the swimming pool and terrace. The terrace is on two levels and has stunning views of the beach; from this point of view you can see the natural curvature of the coast and the thousands of bodies sprawled all the way along to Port Olympic and beyond. Your challenge now is to find an empty lounger. The terrace has a bar and is decked out with large, comfortable, white loungers designed for 1, 2 or more people. There are waiters buzzing around doing table service but to receive that you'll need a room key, and I assume that if you're reading this you probably don't have one! No worries; find a sun lounger, unroll the towel that they have put out for the (paying) guests and enjoy the sunshine. My only piece of advice for this hotel is that you dress reasonably well; this hotel is for people with serious cash and if you wander round in your regular beach rags then someone might start asking questions….
Catalonia Barcelona Plaza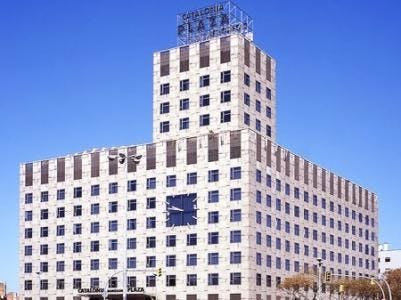 This hotel in Plaza Espanya has a rather ugly communist style façade with no distinguishing features but don't be fooled. Enter through the unassuming lobby, make your way for the lift and head straight up to the terrace. This isn't one of the tallest buildings in Barcelona but has impressive panoramic views of Plaza Espanya and Montjuic. It's a treat to see the sights from this angle as it's almost impossible from anywhere else (unless you live on the top floor of one of the expensive nearby apartments). It has a sizeable swimming pool so bring your swim suit and don't hesitate to jump in. You can laze around on the sun loungers, order a drink from the reasonably priced bar and soak up the good vibes!
As you can see you can easily have high quality on a low budget. That goes for us too! If your purse strings are a little tight check out our TEFL course discounts.