One of the most fun parts of living abroad is exploring a new cuisine. Barcelona is an eclectic and cosmopolitan city, so you won't miss your home comforts too badly – there are even British and American supermarkets! But getting to know the cuisine of your new home is also a delicious journey of discovery, so with that in mind we've put together a list of the places to go to sample Barcelona's most quintessential dishes!
For paella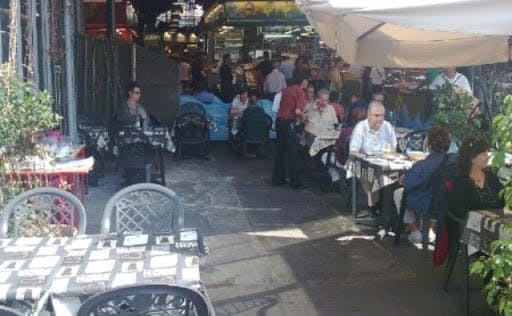 Head to La Gardunya to sample Spain's most famous dish. This restaurant behind La Boqueria does a great paella menu at lunchtime for only 16€ per person. The terrace looks over the plaça behind the market and it's a great spot for people watching. But be warned – don't order paella in the evening or you'll mark yourself out as a guiri!
La Gardunya
Carrer de Jerusalem, 18
For cava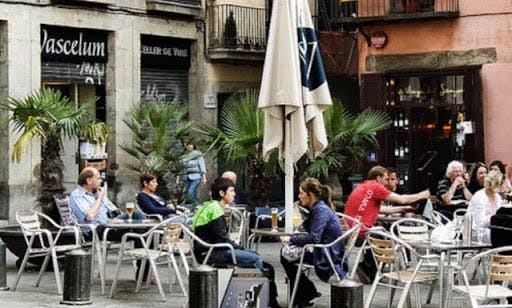 Head to La Vinya del Senyor, a specialist wine bar in El Gótico to sample Catalunya's answer to champagne. They sell hundreds of wines by the glass and you can sample a huge array of the regional wines on the terrace which faces Santa Maria del Mar. There's also a small tapas menu to soak up the booze!
La Vinya del Senyor
Plaça de Santa Maria, 5
For cheap tapas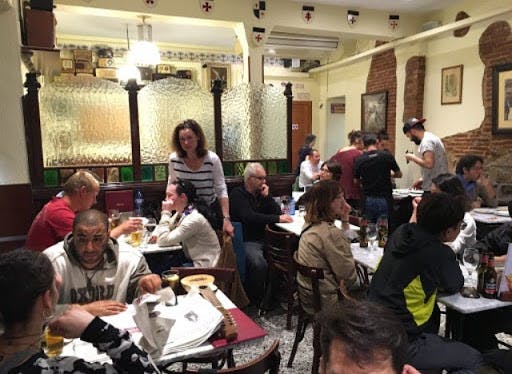 Elisabets in El Raval fulfils the two main requirements of a cheap tapas joint: bright lighting and paper napkins on the floor. The service is rubbish but the tapas are delicious and shockingly cheap and it's busy at all times of day and night – you might have a wait for your table!
Elisabets
Carrer d'Elisabets, 2 
For fancy tapas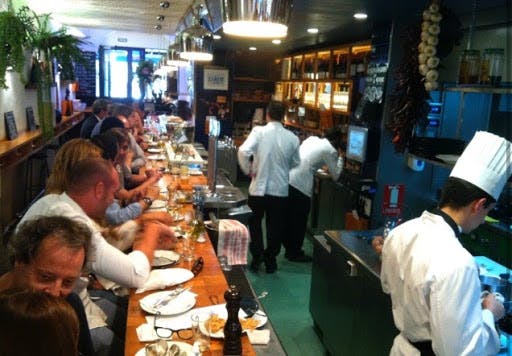 A few streets away but a world away in terms of decor, price tag and service, Bar Cañete is the place to go if you want really sensational tapas. The quality of the ingredients shine through each carefully prepared dish, and their jamón is sensational. Reserve a table a few days ahead if you're planned to go – they are always fully booked!
Bar Cañete
Carrer de la Unio, 17
For pinxos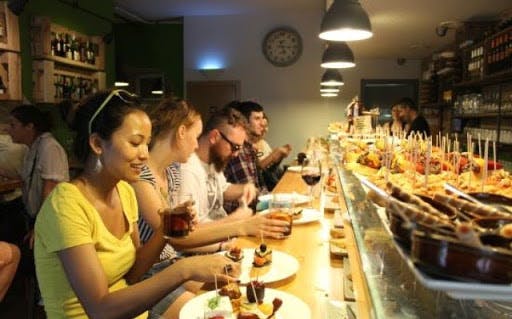 Whether you fancy a snack or a whole meal, there's only one place to go for these little bites of deliciousness on bread. Carrer Blai is lined with pinxo bars. You just walk in, ask for a plate and then help yourself. Each pinxo is held together with a cocktail stick so the bar staff count the empty cocktail sticks at the end to figure out your bill!
Carrer Blai
For chocolate and churros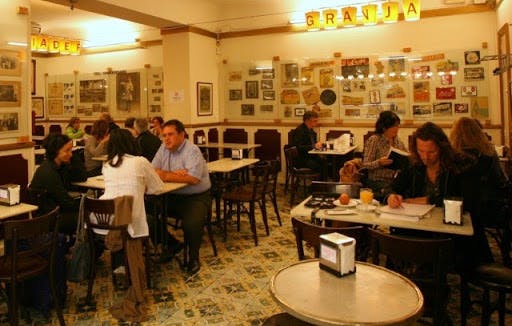 Catalans have been drinking hot chocolate and eating churros at Granja M. Viader since 1870. The cafe is now run by the fifth generation of the same family and stepping inside is a bit of a step back in time. The walls are lined with black and white photographs, the clientele are mostly elderly locals and the churros are just as good as they've always been!
Granja M. Viader
Carrer d'en Xuclá, 4
What are your top foodie tips in Barcelona? Follow us on Facebook and Instagram for more tips.