Joining a gym in Barcelona is a big commitment. Shelling out €70 to €100 a month makes sense if you plan to use the gym regularly, but if you don't, it can feel like throwing money away.
For those of us who want to keep fit but don't want to join a gym, there are lots of great outdoor workout alternatives out there. Just one of the perks of living in this incredible city!
Running up Montjuïc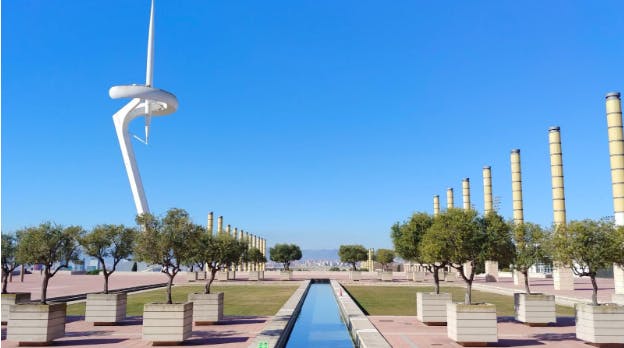 The best way to escape the hustle and bustle of the city is to escape to Montjuïc. With lots of clear open spaces, stunning parks and breathtaking views of the city and the sea, it's the perfect place to go for a run and clear your head.
If you're an early riser, head to the Mirador de Miramar to catch the sun rising over the sea. In the evening, the Olympic Ring is the place to be, with epic sunset views over the west of the city.  
Swimming in the sea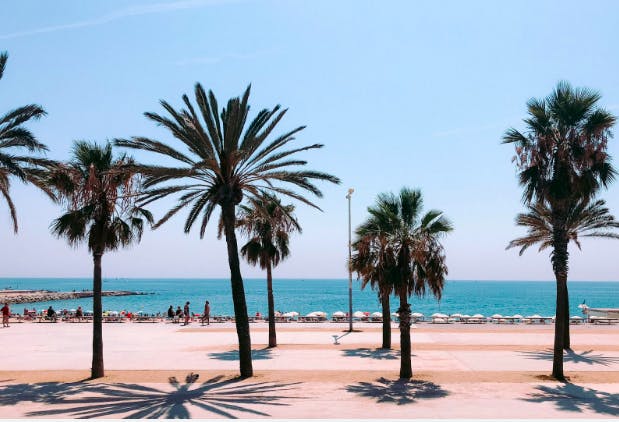 What better way to cool off and get fit than to take a dip in the Mediterranean sea? With beautiful beaches stretching the length of the city, it'd be a shame not to! 
Avoid the massive crowds and mojito merchants of Barceloneta beach and instead head to the quieter, cleaner Playa Nova Icária. If you fancy yourself as a virtuoso volleyball player, you could even get involved in the many games that take place here throughout the day. 
Outdoor gyms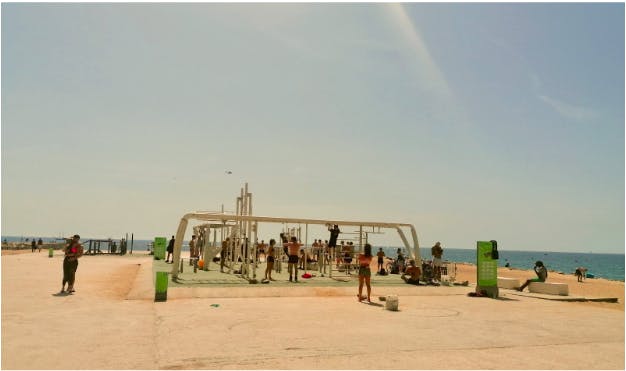 Located between Barceloneta and Nova Icária beaches, the Outdoor Gym is by far the best outdoor workout spot in the city and probably the all round best alternative to a gym. It's hugely popular – you'll find big groups working out throughout the day – so, either avoid morning or early evening if you want to find a spot. Or, better yet, join a Meetup group!
Other good alternatives are the Callisthenics Park in Poblenou and Calistenia in Montjuïc.
Cycling in las afueras
Cycling in the city is great – Barcelona has an abundance of bike lanes making it a very cycle-friendly city. There are also some excellent bike routes in the city. However, if you really want to stretch your legs and clear your mind, venture outside of the city to the outskirts, or afueras. 
Catalonia has some of the best cycling roads in Europe, with diverse landscapes, breathtaking views and a massive network of routes to discover. So, hit the saddle and take in the sights!
Rock climbing
Adrenaline junkies rejoice! Barcelona's La Foixarda climbing centre offers a thrilling workout that no gym can match. 
If you've never tried rock climbing, now's the time. When it comes to building up forearms, biceps, shoulders, abs, glutes, thighs and calves, there's no better workout than rock climbing. Add the thrill of conquering the heights, and you're on to a winner!  
Outdoor workout clubs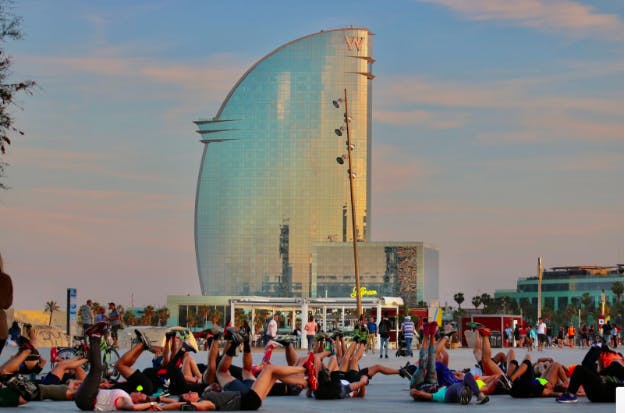 When it comes to mixing socialising with outdoor workouts, Barcelona's one of the best cities in the world. There's a ton of great outdoor workout groups out there – from freeletics and bootcamp to capoeira and kickboxing – where you can get a great workout while meeting people. 
Check out Meetup to become part of an outdoor workout community in Barcelona. There's something for everyone!