In the midst of panic writing a 6,000 word dissertation in my deserted Bristol flat peak-pandemic, uprooting to a vibrant and sunny country to become an English teacher sounded more than ideal. Sure, I didn't know a word of Spanish and had the confidence of the mouse who'd taken refuge under my bed in those winter months, but was ready for a new challenge. The Visa process as a Brit post-Brexit proved slightly problematic, particularly after I came down with Covid in midsummer and missed my initial Consulate appointment, but by the end of August I was on a plane to Spain!  
The fast paced nature of a city that surely never sleeps instantly became the key fixture of my fascination with it. Suddenly I was embracing the metro buzz, music on every corner, coffee in hand, strolling to TEFL Iberia alongside my New Yorker flatmate also embarking on the intensive teaching course. A standout greatness about that month was the invaluable face to face learning and peer assessment which took place constantly. After a final year of attending University classes entirely via Zoom, it was a much needed breath of fresh air to meet up with a diverse group of people everyday for teaching practice and grammar refreshers. The Iberia community carried on far beyond that qualification, as my Beginner Spanish classes and Developing Teacher Course ensured seeing familiar faces in the same space weekly. A well deserved shoutout at this point must also be given to team member Tim, whose 'free lesson plans' website gave me countless original worksheets, debates and teaching aid for my advanced exam classes, from First Certificate Cambridge to Objective Proficiency. I came to befriend graduates from months before and way after my group, from four new flatmates undertaking it throughout October-January, to my closest work colleague who had arrived back in June. My core classmates remained close throughout our first year as both fresh teachers and expats. Our first months were spent bonding in cable cars to Montjuic, at Thanksgiving potluck, infamously hiking El Carmel's Bunkers in pyjamas following orders it would be freezing at the top of the viewpoint (the best place to see any sunset), but most of all discussing hilarious cultural differences between the Americans, Canadians, British and Irish among us.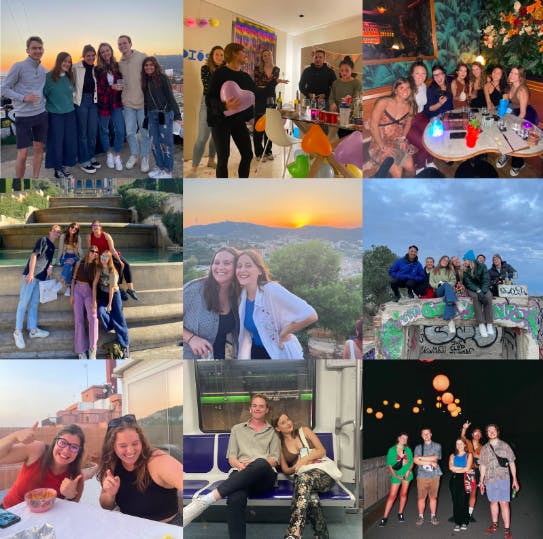 TEFL Friends in the City (from left to right: El Carmel, Valentines Weekend, Paradiso Cocktail Bar, Museu Nacional d'Art de Catalunya, Bunkers for Sunsets, Work's End of Term BBQ, Metro rides to DJ nights, Primavera Sound Festival with home friends visiting! 
Opportunities afterwards are endless. Some of us opted for freelance approaches, either travelling to teach in a new country altogether or using an agency to be assigned private students and work all over Barcelona. There is also the question of where to live. More lively happenings in the central El Born, where bar crawls are adjacent to the Picasso Museum, oppose the beach facing apartments closer to Barceloneta and Bogatell. My friends were dotted across these locations, and whilst roaming the Gothic Quarter was one of my most beloved pastimes in the daytime, I felt most at home in the quiet suburbia of Maragall. It is twenty minutes by metro from the city's epicenter, and by genuine coincidence, a five minute walk to my new job! The latter was aided by Iberia's coaching on creating great teacher CVs/resumes, as well as its positive reputation which attracted my boss to interviewing and hiring multiple graduates from the school. The turnaround for this was also remarkable. I'd been most nervous about gaining employment in due time, but my first day of work began on a Monday, just four days after my CertTesol finished. This gave me the chance to really get stuck into the start of autumn term, getting to know both students, colleagues, and my neighbourhood all at once. 
Now, for the teaching. After school academies are particularly common in Spain, in which largely native English speakers support all ages in their studies. My timetable spanned from junior groups of seven year olds, to upper intermediate teenagers, to mature students wanting advanced conversational practice or business based classes. I learnt skills in how to engage different audiences, particularly with the potential pitfall of everyone face-mask wearing, as well as classroom management. TEFL encourages communicative based learning as opposed to simply utilising textbooks alone. We often debated current affairs, using Authentic materials with exam students such as The Last Dance and Jeen-Yuhs on Netflix in order to discuss contemporary culture and the drawbacks of celebrity. Despite my fledgling shyness, I was struck by how much I had in common with everyone in my classroom, looking forward to seeing them every day with inside jokes that inevitably culminate after months together. My other greatest joy was time spent with my colleagues. About ten of us, each with a different background, field of expertise and level of Spanish and Catalan, would crowd around our beloved local bar (whose name hilariously translates to 'the failure') each Friday with a round of Estrella Damms, confessing tribulations of the past week. The funniest, kindest team to both work and hang out with, it was amazing to be supported by new teachers like me as well as several who had taught and lived in Spain for many years and offered advice whenever it was needed. 
Finding these true connections in a post-covid world has been the most life affirming part of my journey in Barcelona, inspiring self confidence and being unafraid of trying new things in which I was certainly not already experienced. Resilience in moving to a new country alone is empowering in its utter unpredictability, as you learn more about yourself than you could under other circumstances. Being a somewhat introvert and cinephile bookworm, I also want to encourage those with a similar disposition to me to give it a go. Barcelona is full of energetic creativity, the MACBA, Joan Miró Foundation, and Primavera Sound Festival being my top things not to miss out on. But there are also beautifully quiet spots in which to take refuge away from the bustling tourists and round-the-clock sunlight. My hours spent reading on plush green sofas in the well stocked Llibreria Finestres, eating the best Bravas at La Central in El Raval (the two most exquisite bookstore cafes you will find) were only superseded by beloved solo trips to see indie films at the Cine Verdi. Located in probably the most perfect and quiet neighbourhood of Gràcia, surrounded by homemade pasta restaurants and rows of authentic Pasteis de Nata, you can while away any lonesome evening by letting a new English language (not Spanish dubbed!) movie wash over you, reminiscing of the home that awaits.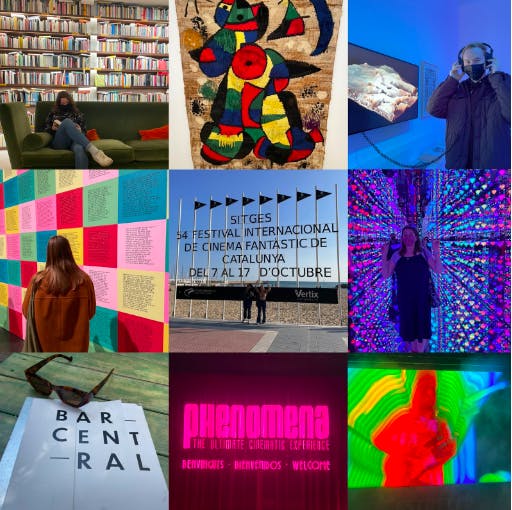 Creativity in the City (from left to right: Natalie reading at Llibreria Finestres, Joan Miró Foundation, Blake at MACBA, Dana at Sitges International Film Festival, Mum at MOCO Museum, La Central bookstore cafe, Phenomena Cinema, Tame Impala at Primavera)