In my mind, I see Spain itself as a living paradox- centuries of history that exist in the present, in real time. I think of the hundreds of years encapsulated in every single cobblestone beneath my Doc Martens, the same cobblestones that the ancient Romans, Visigoths, Moors used to to tread, which I now myself walk upon as I am running to a nearby bar or a friend's apartment. Catalonia is one of the places that has a tangible romanticism coursing through every narrow alleyway, every crumbling castle; existing side by side with the present day modernity of Gaudi, Sagrada Familia, Barceloneta Beach. Even the concept of the bustling metro itself, carrying people in 2022 underground through the earth containing remnants of the hundreds of years of stories and wars and history, often feels like a testimony to the wonderful absurdity of ancient-meets-present. 
One of the most underrated places in Catalonia to me feels like Girona. In fact, millions of people have already seen parts of Girona without even knowing it- it was the filming location for countless scenes in Game of Thrones. Living in Barcelona, it's easy to get swept up in the endless list of things to do and see, the nonstop hustle and bustle of the city, daily life, etc. A classmate and I were talking after session one day, reflecting on wanting a mini-vacation from the pace of Barcelon. After some thinking, we decided on Girona. Not because we knew anything about it other than a vague recollection of Game of Thrones Trivia, but for the most obvious reasons students typically choose: it's cheap, it's close, and "it's got cool Roman stuff I think," mused my friend Javi. 8 euro later, and we decided to book the train from Barcelona
Sants to the Girona station.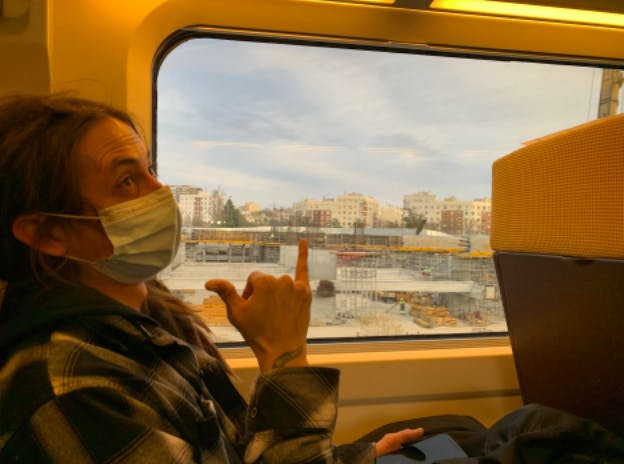 If you only have 48 hours free in your weekend, it's also important to keep in mind how many of those hours are spent in transit. For this reason, I try to avoid airports whenever I can. The train system in Spain is amazingly fast, efficient and best of all, cheap. (Bonus! If you're under 26, you can get the Renfe Youth Discount Card and travel for even cheaper!) The train ride to Girona was only 38 minutes on the high speed train, saving us a ton of time and effort, leaving us more time to enjoy and explore Girona. We left right after class ended on Friday around 2:30pm, and were in Girona by 3:15pm. Since Javi and I traveled together, we were able to also get pretty good deals on accommodation. Since we split costs for everything, we were able to afford a nicer hotel rather than a hostel, and it turned out to be well worth the few extra euros. We stayed at Hotel Palau de Bellavista, which cost us each about 60 euro total for 2 nights. We got to enjoy a luxurious treat without paying luxury prices. 
Our first stop was checking in at the Hotel, taking a quick nap, then getting up to walk around the city. We decided to spend the first day walking around the "new" part of Girona, near the river. We didn't have any specific itinerary for our first day, just to take it easy and relax after a long week. We ended the evening with dinner at La Pulcinella, a cute looking Italian restaurant close to the river. We decided again to treat ourselves (it wasn't a "cheap" restaurant, the prices were comparable to Barcelona) and ordered beer, a truffle pizza, and a salad to share. We were
most surprised by a slight feeling of culture shock- in Barcelona, you typically hear a mix of multiple languages, primarily Catalan, Castellano, and English. But sitting together in the restaurant, we both realized that we were the only people speaking Castellano- a very different atmosphere than in Barcelona. After dinner we walked back to our hotel and decided to watch "La leyes de la frontera," a movie on Netflix about a group of friends in Girona in the 70's carrying out petty crimes around the city. We thought it might give us some inspiration on what to see the next day (and definitely what not to do!). 
We decided Saturday would be the day to explore as much as possible, so we woke up and packed everything we needed for the whole day and left the hotel to pack in as much as we could for the whole day. Our itinerary consisted of seeing the infamous river and bridge, the Cathedral (where a Game of Thrones scene was shot!), the Arabic Baths, The Jewish Quarter, 
the Old Town on the other side of the river, and whatever else we could possibly see in 12 hours. The great thing about Girona, we realized, was how manageable it was for a weekend trip. 48 hours was the perfect amount of time to see everything, without it feeling repetitive or boring (which was our initial concern going to such an "underrated" travel spot). But we were so pleasantly surprised at how enjoyable it was to wander around and get lost in the centuries of crumbling architecture and gorgeous views, without feeling disoriented (as can often happen in a huge city like Barcelona). Our random wandering lead us through centuries old alleyways and lookouts, across the exquisitely charming old town and Jewish Quarter. It was refreshing to be able to wander freely without having to stick to a tightly adhered schedule to try to "pack everything in," it was more than manageable just by wandering around. Around sunset, we found ourselves in a gorgeous, secluded, quiet park, so we took a minute to sit down after half a day of nonstop walking and spent some time just enjoying the tranquil nature and each other's company. It felt strangely emotional and vulnerable, a sudden feeling of being both present and nostalgic- the magic of Catalonia and its ability to evoke nostalgia and real time simultaneously.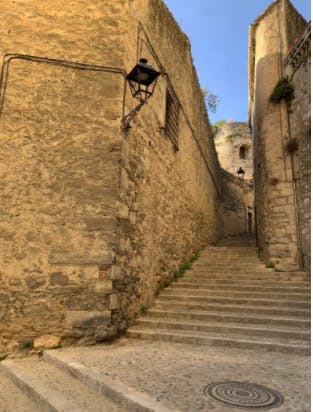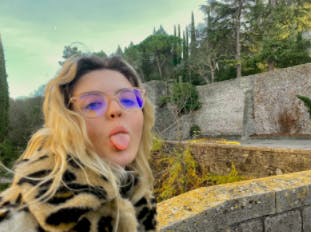 As the day turned to night, we left the park and roughly retraced our path back to the hotel for the night to decide what to do for dinner.. but after 8.5km of walking, both of us were too tired to bother making the trek back down the hill, so just ordered a pizza and stayed in. We spent the rest of the night planning our return home the next morning and watched Netflix, and called it a night. 
The next morning, we wanted to make the most of the last few hours so decided to return to the part of town we liked the best, the gorgeous narrow alleyways of the old town, for one last brunch. We found a hidden gem called La Fabrica on Google Maps, and found our way over to the vibrant little brunch cafe hidden away in a little corner off Plaça St. Josep. And before we knew it, it was time to grab the train back home to Barcelona. We grabbed the rest of our things from the hotel and made our way back to the train station, already dreaming of our next weekend getaway with a newfound appreciation for those "underrated" little gems of Catalunya.