Getting a haircut when living abroad is one of those rites of passage – having the confidence in your language skills to go to a hairdresser and explain exactly what you want really makes you feel like you've passed a milestone.
But many of us struggle to get to that point, and stand uncertainly in front of the bathroom mirror snipping away at split ends with a pair of kitchen scissors, rather than run the risk of leaving the salon with our hair cut into some wild and bizarre style, or with highlights instead of a fringe.
Luckily there is a middle road. There are a few different English-speaking salons around town and we've put our (beautifully-coiffured) heads together to come up with some recommendations for you!
The Morgan Room is our favourite English speaking salon on Carrer dels Banys Vells in El Born. The Independent salon is run by Barry, an extremely experienced hairdresser from Ireland. Barry's high attention to detail will have you leaving the salon feeling like a new person. He will give your hair a full analysis and give you his professional recommendation and then work his magic. Not only can you get your hair done at The Morgan Room, but also a full salon experience with snacks and beverages of your liking, whether it be a coffee or a gin and tonic, along with a possible neck and shoulder massage from his in-house masseuse. The salon has a fresh but luxe feel whilst also bringing a touch of the "El born" aesthetic inside! This is also Director of Admissions, Jayde's regular spot for her blonde locks!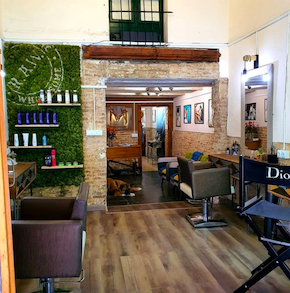 La Strada is another English speaking salon on Carrer de Riera Baixa – the 'vintage' street – in Raval. The salonis run by Tatiana from Florida. An excellent stylist, she takes her time over your haircut to make sure that you're happy with it. She's lived in Barcelona for years and will give you insider tips and recommendations as she cuts your hair. Her salon is also really kitsch, lined with pictures of old movie stars and vintage knick knacks. A wash, cut and blow-dry here costs about €30.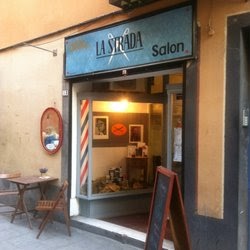 Anthony Llobet is the most well known English-speaking hairdressers in Barcelona. The company runs salons in five different barrios in the city. Getting your hair cut there is like taking a trip back in time – each salon is furnished with vintage leather barbers' chairs and gilt mirrors, with an enormous antique cash register sitting on the front desk. A wash, cut and blowdry here will set you back about €40.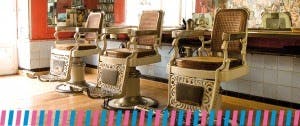 So don't get stressed – next time you decide to change your look, you know where to go! And if you have any other recommendations, just let us know in the comments below!