The Spanish certainly know how to celebrate. From world famous music festivals to epic street parties, it seems that not a weekend goes by without the chance to cut loose and have fun.
But for every well-known Spanish shindig, there are countless other weird and wonderful festivals you might not have heard of. That's because Spain's unique blend of energy, imagination, superstition and strange customs makes for some quirky, joyous celebrations. 
Here are five of our favourite lesser-known Spanish festivals, the perfect tonic for those with an adventurous spirit and a curious mind.   
Haro Wine Festival, La Rioja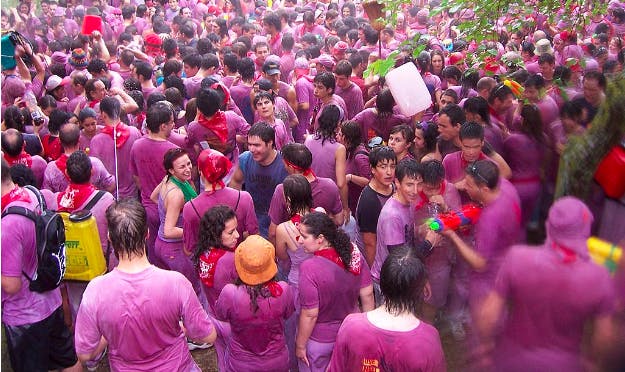 Forget La Tomatina, this is a whole new level of messy fun! Inspired by the tale of a wine-loving pilgrim who doused himself with vino after trekking to Los Riscos de Bilbao, the Haro Wine Festival sees over 130,000 litres of wine spilt every year – all in the name of fun.
If the idea of spilling a drop of red is enough to bring you out in a cold sweat, you'd best give this one a miss. However, if you're a big fan of wine and chaos, this could be your ideal festival. The Haro Wine Festival takes place every 29th June and welcomes tourists and locals alike.
Salto del Colacho, Burgos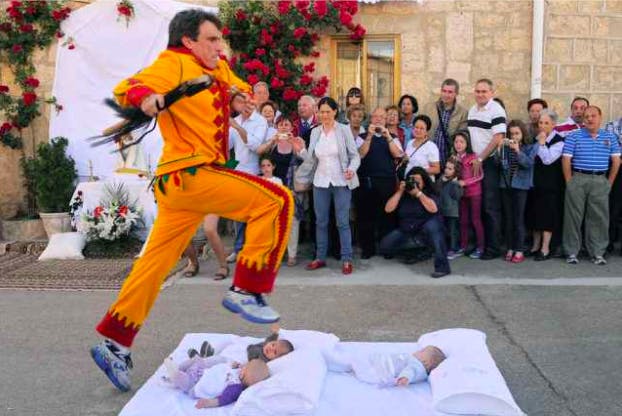 Now for something utterly off-the-wall. Undoubtedly the world's best baby jumping festival (sure, it's the only one, but… you know) Salto del Colacho is an annual summertime festival in the village of Castrillo de Murcia, Burgos, dating all the way back to 1621 – with, thankfully, no reported accidents in its 400-year history.
Parents with babies born within the year lay their little ones down on colourful cushions among altars adorned with flowers. Then a man dressed as a devil, known as el colacho takes a long run up and leaps over the unsuspecting tots!
The Salto del Colacho is said to banish evil spirits and represent a triumph of good over evil. After the babies return to their parents' loving arms and their parents' heartbeats return to normal, the local folk celebrate with free-flowing wine and spirited dancing.  
Festival of Santa Marta de Ribarteme, Pontevedra
This totally unique festival remembers the dearly nearly departed. That's right, it's a toast to those who underwent a near-death experience during the previous year, giving them a chance to wonder 'what if.' 
These 'survivors by the skin of their teeth' climb into mock coffins ('moffins' anyone?) and play dead, while their families carry them along a procession complete with full brass band. True, it might sound macabre and morbid, but the focus of the festival is contemplating death, while celebrating life – hence the post-funeral fiesta of food, fireworks, music and good times. 
Concurs de Castells, Tarragona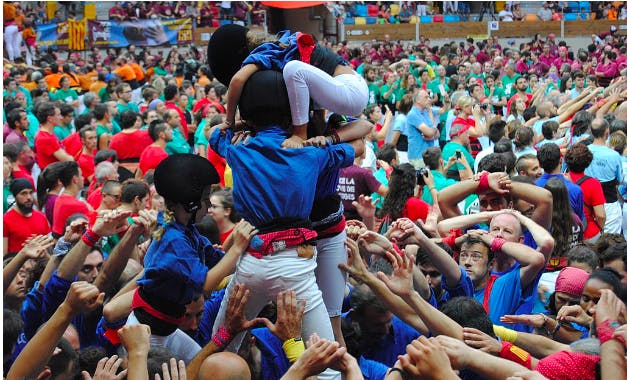 If you've never experienced the castellers – the human towers of Catalonia – you're in for a treat. While you'll regularly find them at festivals throughout the year, this competition is like the castellers World Cup – 32 of the best teams in the region compete to see who can build the highest human tower, with some of them reaching an incredible 15 metres tall.
This Unesco recognised event takes place in front of thousands of people inside the stadium, with millions more watching at home. But the most remarkable thing about the castells is the fact that the enxaneta – the person at the very top of the tower – is a child, usually no more than 8-years old!  
Las Fallas, Valencia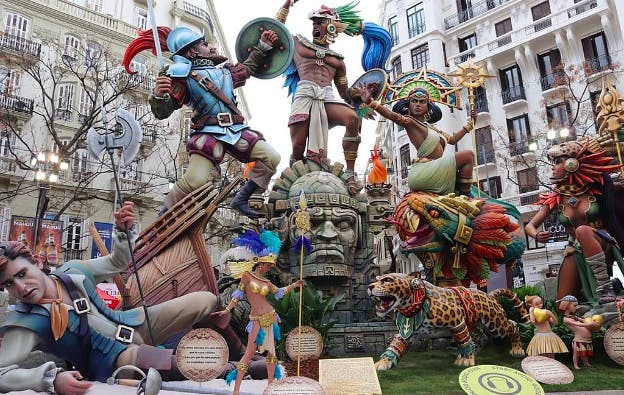 Every year in Valencia, come mid-March, the locals unleash their enthusiasm for fire and festivities by throwing a satirical street party with an explosive twist. Locals bring together countless giant papier-mâché figures known as ninots, all of which have been handmade by crafty committees throughout the year. 
These whopping works of art, usually in the form of celebrities, politicians and anyone else in the public eye, are then paraded amid a flurry of fireworks, before being set ablaze and burnt to cinders. Only one of these ninots makes it out unscathed – the lucky winner – which is then whisked off to the Fallero Museum, where it's proudly displayed throughout the year.