Not only is Barcelona one of the greatest cities in the world, it's also surrounded by some incredible places that are easily accessible by train.
Here's our roundup of the best getaways within a couple of hours from Barcelona, all of which you can visit cheaply by train.
Wait… aren't train tickets free in Spain until the end of the year?
Well, yes and no. While there's been a lot of buzz around the city since Spanish president Pedro Sánchez announced that trains will be free between 1st September 1 and 31st December, it's not quite so straightforward.
First of all, you have to put down a €10 deposit, which you'll get back after you've taken 16 journeys. Also, the abono (free ticket) only applies to a specific journey between two stations.
So, you need to take the same journey 16 times (8 times there and back) over the course of 4 months for it to be worth it. For commuters, it's great. For daytrippers and weekend trippers, not so much.
Then again, if any of the destinations on our list below look good enough to visit 8 times before the end of the year, the abono is a great idea. Visit the RENFE Abono webpage for more information. 
Best day trips and weekend trips from Barcelona by train. 
Girona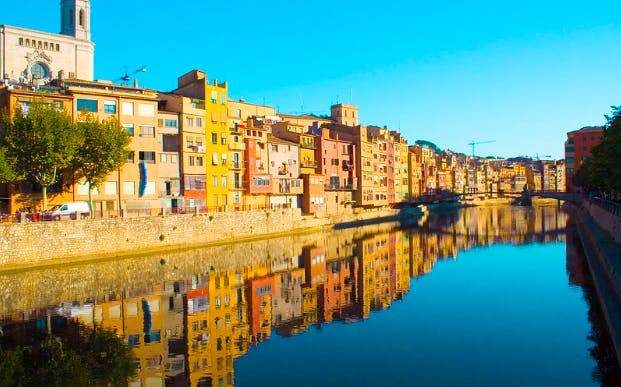 A spectacular city just 100km northeast of Barcelona, Girona is a must-visit for anyone living in Barcelona. First of all, it takes less than 40 minutes to get there by fast train. Also, the architecture is stunning – in fact, many episodes of Game of Thrones were filmed there. 
Another great thing about Girona is how much you can see on foot, in a short space of time. The cathedral, the medieval walls and the spectacular cobbled streets of the Jewish Quarter are all in the same part of the city. Which makes Girona the perfect day trip destination from Barcelona.
How to get there
Take the Avant from Sants (destination Figueres Vilafant, journey time 38 minutes). 
Figueres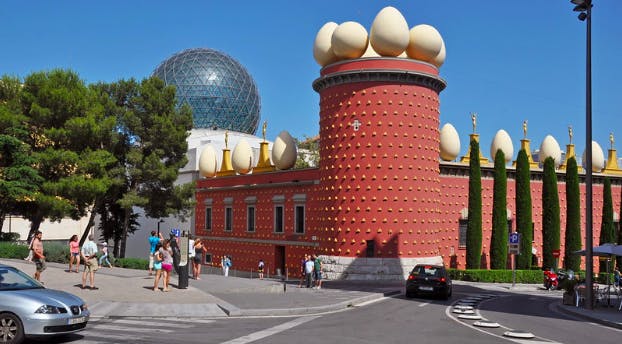 The home of legendary surrealist Salvador Dalí, Figueres is a small town 140km northeast of Barcelona. Almost fully dedicated to the mad moustachioed maestro, Figueres contains no fewer than four Dalí-themed museums – one of which is the house he was born in – making it an unmissable trip for anyone with an interest in art or art history. 
Beyond Dalí, there's the Sant Ferran Castle – the largest modern fortress in Europe and the largest monument in Catalonia. 
How to get there
Take the AVE-TGV train from Sants (destination Figueres Vilafant, journey time 55 minutes).
Sitges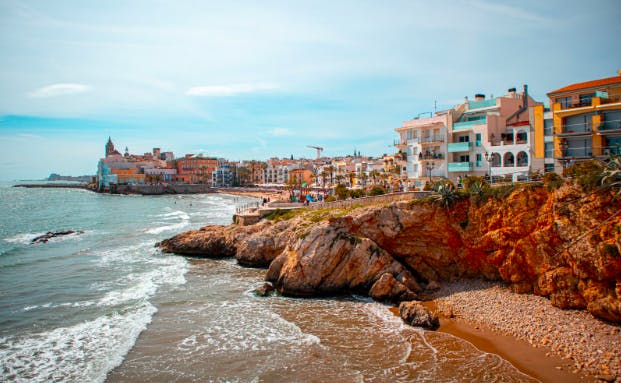 Another hugely popular day trip destination from Barcelona, Sitges is a beautiful coastal city with a whole lot of charm. Not only is it the place to be during carnival in February, it's also the LGBTQ+ capital of Spain and has one of the most cultural scenes in the whole of Catalonia. 
Then there's the Sitges Film Festival – one of the largest horror festivals in the world, not to mention the countless English language events put on by the town's large expat community.
How to get there
Take the R2S from Sants (destination Sant Vicenç de Calders, journey time 33 minutes). 
PortAventura World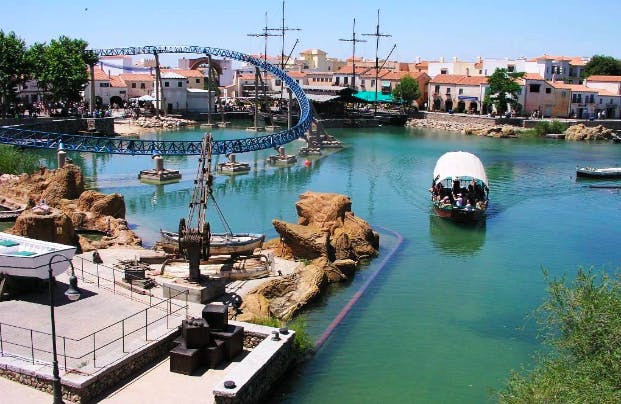 Okay, here's one for the adrenaline junkies out there. PortAventura World is a leisure complex just outside of Tarragona, 100km down the coast from Barcelona. It includes PortAventura Park, one of Europe's most iconic theme parks and the first ever built in Spain; Ferrari Land, which hosts the fastest and tallest rollercoaster in Europe; and Caribe Aquatic Park, one of the best waterparks in Spain.
How to get there
Take the Regional train from Sants (destination Salou-PortAventura, journey time 1 hour 39 minutes).
Sant Pol de Mar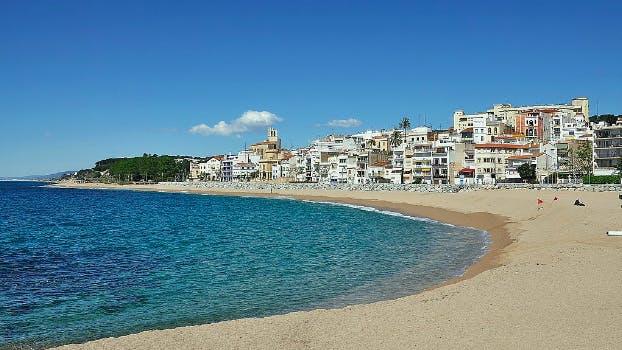 A quaint little coastal town with narrow cobbled streets, rocky bays and wonderful sandy beaches, Sant Pol de Mar is a bit of an unknown gem. It's only 50km up the coast from Barcelona and its choice of quiet beaches – there are 10 of them – and classy restaurants make it ideal for an easy escape from the hustle and bustle of Barcelona. 
How to get there
Take the R1 train from Plaça de Catalunya (towards Blanes, Calella or Maçanet Massanes, journey time 1 hour 40 minutes).
Sant Sadurní d'Anoia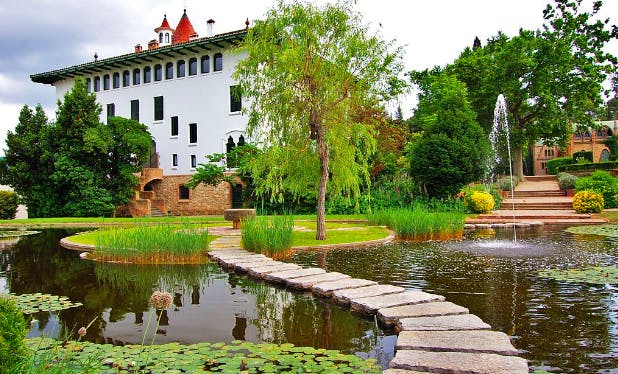 Situated 40km inland southwest of Barcelona, Sant Sadurní d'Anoia is the undisputed Cava capital of Catalonia. If you're a fan of the Spanish version of Champagne, as well as wine, this place is unmissable. 
Not only is it home to 80 cava producers and many vineyards, Sant Sadurní d'Anoia also hosts the annual Cavatast Cava Festival at the end of September – a famous open air event that celebrates the best local cava and cuisine. 
How to get there
Take the R4 from Sants to Sant Sadurní d'Anoia (destination Vilafranca Del Penedes, journey time 45 minutes)
La Molina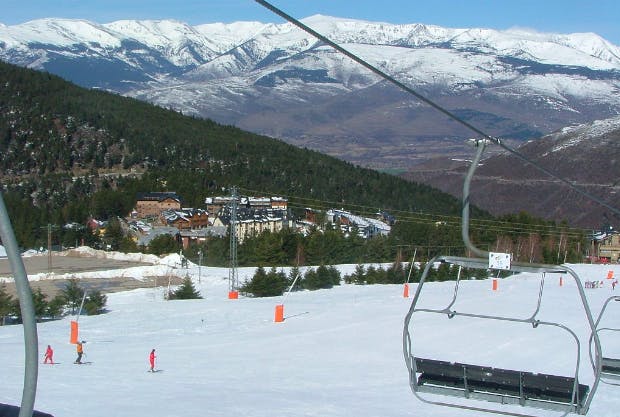 Located in the Pyrenees mountains by the French border, La Molina is a stunning medieval town that just happens to have some of the best ski and snowboarding resorts in Europe. If you're looking for a weekend away that blends the high octane thrills with ancient history and laid back small town charm, this is the place for you. 
It's great all year round, but without doubt the best time to visit La Molina is during the winter months, when the snow falls on this spectacular mountain town.
How to get there
Take the R3 train from Sants (destination Puigcerdà, journey time 3 hours 30 minutes).