With its cosmopolitan character and diverse range of cuisines, Barcelona is a true foodie's paradise. You can find delicious dishes from cultures the world over. 
But ask any Italian in Barcelona about the best outside influence on the Barcelona food scene and they'll tell you… it's got to be pizza!  
Barcelona is host to some incredible pizzerias – quite possibly some of the best outside of Italy. Sure, everyone has their favourites ("What? They missed my favourite pizzeria! Unbelievable!"), but trust us… this list is as good as it gets. Prego.
So, ditch the Dominoes and try the real deal. Here's our rundown of the very best pizzerias in Barcelona. 
Pizzeria Napoletana A33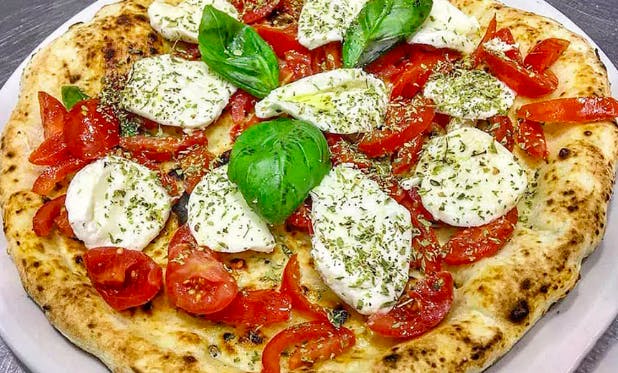 Located in Sant Antoni, one of Barcelona's best neighbourhoods, Pizzeria Napoletana A33 is all about great service and generously topped, authentic pizzas. These guys don't hold back on their toppings! 
With over 40 pizzas on offer, from the simplicity of the Diavola (tomato, mozzarella, salami) to the decadence of the playfully named Foodpornera (cheese heaven!), there's a perfect pizza for every palette. No wonder it's become one of the most popular pizza joints in the city. 
And with the excellent Mr White's cocktail bar next door, it's the perfect starting point for a great night out in Barcelona.
Carrer de Manso, 22
Sports Bar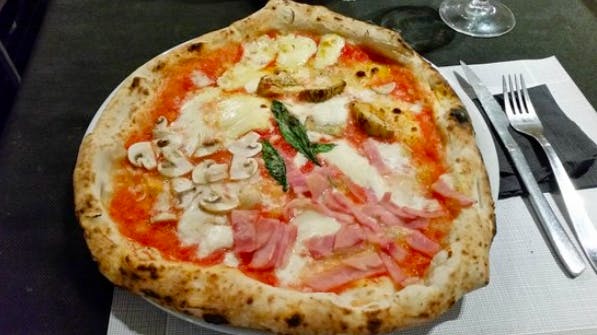 Don't let the title fool you. This is a seriously good, authentic pizzeria, with a hard-earned reputation as one of Barcelona's best. In fact, many Italians will say Sports Bar is the best. 
There are three separate spots – one in the Born (the original and most recommended), one in Barceloneta and one near the Sagrada Família. Service is fast and efficient and the pizzas are outstanding.
The atmosphere? Think old school Italian football fans, with memorabilia on the walls and a cracking atmosphere when games are on the TV. The icing on the cake? Well, the cake! Hands down the best pizzeria when it comes to afters… the Ferrero Rocher dessert is out of this world!
Carrer Ample, 51
Mimmo's Pizza, Plaza del Sortidor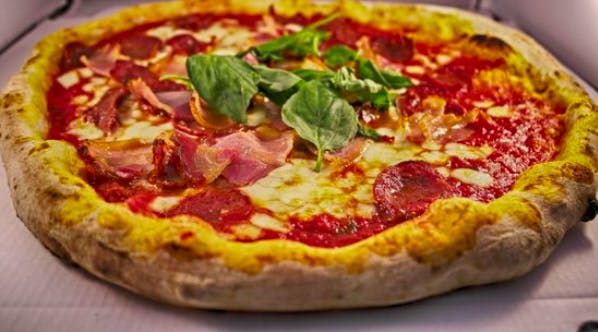 Most expats living in Barcelona will tell you that Poble Sec is one of the best barrios to live in. There's the famous Carrer de Blai, with its pintxos and tapas, so many cool bars and lots of fantastic restaurants… including this unassuming pizzeria, tucked away in a corner of the barrios quieter plazas.  
Mimmo's is all about the old world charm. Bookings? Forget about it… you better join the queue. Check the menu beforehand on the website? Pah! Who needs a website when the food is this good. And it is really good… simplicity done to perfection.
These guys love a discount, so keep an eye out for cheap midweek pizzas. And get there at 8pm sharp… I wasn't joking about the queue.  
Carrer de Blasco de Garay, 46
Frankie Gallo Cha Cha Cha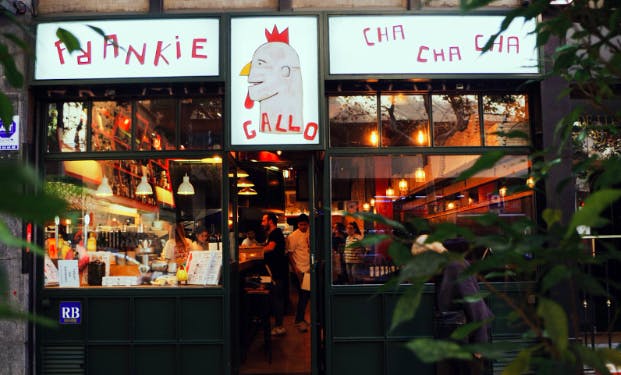 I've heard people dismiss it as a hipster hangout or a tourist spot. But Frankie Gallo Cha Cha Cha is genuinely a great pizzeria. These guys care about the whole experience – from the fresh ingredients used to create the incredibly tasty pizzas to the fantastic open plan ambience that makes you want to order just one more cocktail and hang around for a while.  
Unlike many of the pizzerias on this list, Frankie Gallo is very central – only a stone's throw away from Las Ramblas. Plus, if you're looking for service with a smile, this is a great choice. The staff are very friendly, which makes a difference to some of the more, shall we say, traditional pizzerias in the city.
Carrer del Marquès de Barberà, 15
Pizzeria Ciao Giò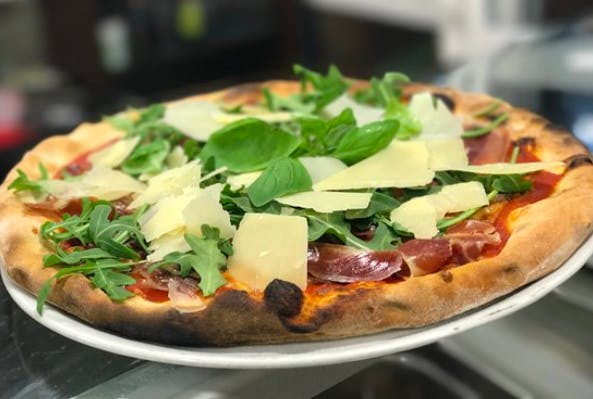 From the buzzing streets of Raval to a quiet, modest neighbourhood plaza in one of the city's lesser known areas. Located in Marina del Port, at the foot of Montjüic, Pizzeria Ciao Gió is a true hidden gem.   
In terms of quality to price ratio, this has got to be the best pizzeria in the whole of Barcelona. A good few euros cheaper than most of the places on this list, Ciao Gió dishes up delicious pizzas with sensational Sicilian style. The toppings are wonderful, but the true brilliance is in the base… just a hint of char makes all the difference!
Yes it's a little out of the way if you're living in the centre of the city. But if you're planning a day trip up Montjüic, make this outstanding little pizzeria your last port of call.
Local 27, C/ dels Alts Forns, 69
Tomasso – New York Pizza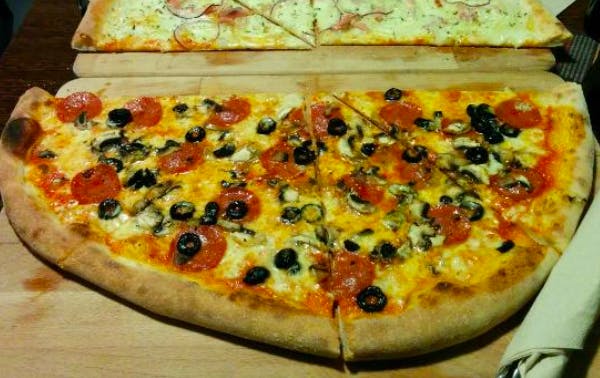 For those looking for an NYC-style slice, look no further than this small pizzeria in Eixample. Giant New York slices, quality beer and friendly service make Tomasso – New York Pizza a must for homesick New Yorkers.  
Go for the New York Regular or the Famous Original. The XL sizes are ridiculous, so bring a friend or two. It's a different kind of pizza to the traditional Italian type – a bit crispier, the toppings tend to be more plentiful. Pizzas aside, the décor is great – extra points for the vintage arcade games, which just adds to the quirkiness of this awesome pizzeria. 
Carrer de Londres, 93, 08036
Forno d'Oro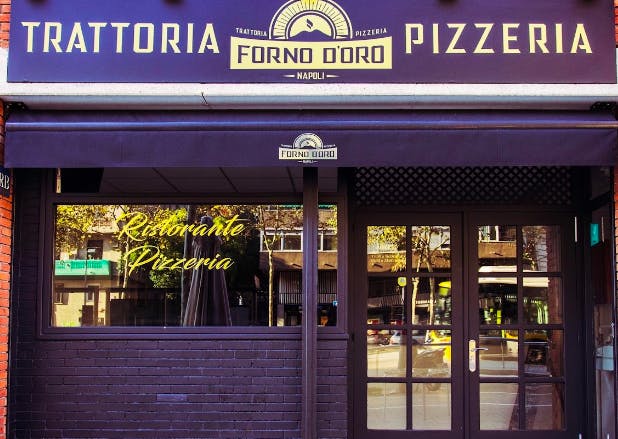 Another hidden-gem that's actually hiding in plain sight, you'll find Forno d'Oro (which translates as golden oven) on Gran Via, close to Plaza España. A laid-back, family-run pizzeria that is authentically Neapolitan, Forno d'Oro's toppings are to die for. 
Go for the Pulcinella – Italian sausage, mozzarella, chilli – or the sensational Mediterraneana – fresh cherry tomatoes, parma ham, mozzarella and parmigiano. Service is good, the interiors are no frills, but the real draw is the quality. For an authentic Neapolitan pizza at a decent price, this one is hard to beat. 
Gran Via de les Corts Catalanes, 295
Tino – Esto no es una Pizzeria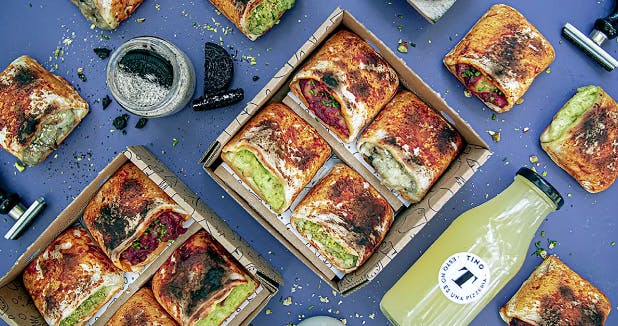 And finally for something a little different. A fabulous fusion of pizza and empanada, these little beauties have to be tasted to be believed. Pizza snobs will turn their noses up, for sure… until they catch that smell and take a bite, that is. Then it's game over!
Perfectly thin dough baked to perfection with a generous irresistible filling – a tino is kind of like a calzone, but open at one side. Playful flavour names include the Tarantino, Cabracadabra and Pork Favor, and there are some great vegan options (Mexigan, Stiive Jobs) so there's a tino for every taste.
Tino – esto no es una pizzeria also offers great takeout box deals, so you can order in and share with friends, then spread the word about the latest street food sensation in Barcelona.   
Carrer de Còrsega, 225